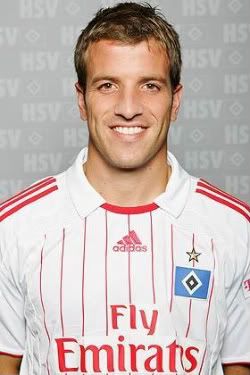 The Spanish giants have lodged a new bid of €10m and expect that to be accepted alowing talks to begin between the clubs and the player's representative.With Cristiano Ronaldo's arrival now more and more unlikely, Madrid have turned their attentions to other players after Bernd Schuster pleaded with the club's hierarchy to add to his squad.
Van der Vaart has been on the club's list for months, but with all the focus placed on signing just one player Los Merengues are now having to push on with Plan B.
Hamburg meet Real Madrid in the Emirates Cup at Arsenal's stadium on Saturday and then play Juventus on Sunday, giving Van der Vaart two chances to showcase his talent to Schuster.
Ramón Calderón has backed down over his plans not to sign anyone should Ronaldo not be available and relented for the sake of the coached who asked for some new faces to freshen things up.According to Marca, Hamburg have decided to sell and use the money to find a replacement and after turning down just €6m last week, will say yes to the €10m now on the table.
Schuster is believed to have asked sporting director, Predrag Mijatovic, on July 10 to do a deal with Hamburg after initial contact was made and a deal looked set to be done then.Van der Vaart's arrival could see two or three new players arrive at the Bernabéu which would certainly mean that any bid for Ronaldo had been postponed this year.