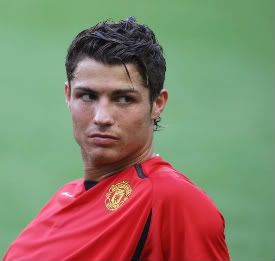 tribalfootball.com - July 06, 2008
Friends admit Cristiano Ronaldo is in the dark over whether Manchester United will sell him to Real Madrid.
A close friend, Jose, who is holidaying with Ronaldo in Italy, told AS: "Cristiano is not going to speak now because he cannot say anything. The truth is that, today, he knows nothing about what will happen. Of course he's going to go to Manchester United and Cristiano will see (Sir Alex) Ferguson.

"We, tomorrow (today), will return to Portugal, but then he will travel to Manchester this week because Cristiano needs his ankle operation. Regarding Real Madrid, there is nothing concrete, so we cannot say anything.
"He knew that on the 17th he must return to Manchester and the only thing that is clear is Cristiano has a contract with United. He is very quiet, it's okay and the truth is that there's little he can do in this regard.
"Let's see what's going to happen ..."
Meanwhile, while holidaying in Italy, Ronaldo admitted to a Telemadrid reporter: "Will I go to Madrid? I do not know yet ..."