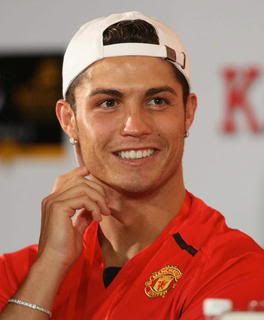 Cristiano Ronaldo's future at Manchester United has taken yet another twist with the news Wimbledon champion Rafael Nadal received personal assurances from Real Madrid president Ramon Calderon that the Portugal international will sign for the Spanish club.
According to reports, Nadal, the fervent Real Madrid supporter was told by Calderon that Ronaldo's move to the Bernabeu is "done and dusted", following the epic five-set championship win over Roger Federer at SW19.
It is understood Nadal asked Calderon: "OK, President, where's this Cristiano Ronaldo we are supposed to be signing?"
This prompted a confident response from the Real president who boasted to Nadal: "Relax, Rafa, everything's under control. We've got him done and dusted."
The news will undoubtedly anger leading officials at Old Trafford once again, doing little to improve the strained relationship between the two leading European clubs. On Monday, Calderon avoided a potentially embarrassing confrontation with United chief executive David Gill in Nyon by opting to fly to Madrid for a board meeting instead.
Yet while Real continue to claim Ronaldo will sign for them, United have been equally bullish over the Portugal winger's future, maintaining Ronaldo will remain a Manchester United player.
Ronaldo, 23, is expected to miss the start of the new season after medics ordered him to rest for a month following his recent ankle surgery in Holland.
However, other reports suggest that Ronaldo informed a well-wishing supporter who sneaked into his room at the Amsterdam hospital, where the player rested after his operation, that he was relishing a new beginning in Spain.
According to the fan David Jolly, Ronaldo said to him: "I hope I'll be as good in Spain as I was in England."