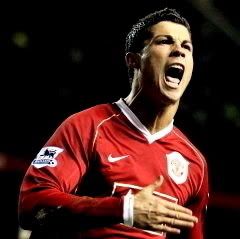 MADRID: Real Madrid president Ramon Calderon and Manchester United chief executive David Gill will hold talks in Switzerland next week over Portuguese star Cristiano Ronaldo (caricature), the Spanish sports daily AS reported yesterday.
The private talks will take place tomorrow at UEFA's headquarters in Nyon on the sidelines of a wider meeting of European clubs, AS said.
Meawhile, London's The Sun reported that Manchester United have described claims that Cristiano Ronaldo is on the verge of moving to Real Madrid as 'laughable nonsense', .
United were outraged when Spanish paper Marca, which is recognised as the official mouthpiece of Real, said the deal was imminent.
They claimed Real had offered £70mil and United wanted £83mil.
But a United spokesman said: "There is not a shred of truth in it. This is laughable nonsense and to be quite honest we are getting fed up with it.
"We are not entering into any discussions with anyone about selling Cristiano Ronaldo.
"Quite simply Cristiano Ronaldo is not for sale and that is that."
All United were concentrating on yesterday with regards to Ronaldo was arranging an ankle operation for the player.
The Portugal winger will have the op next week which will keep him out of action for two months.
Presuming that Ronaldo remains at United, he is sure to miss the first four Premier League games of next season as the Reds defend their title.
That is a big blow for manager Alex Ferguson – especially as it includes the trip to arch-rivals Liverpool on Sept 13.
Ronaldo has been playing through the pain barrier since March when he first noticed a problem with his right ankle.
He still played the whole season, netting a staggering 42 goals as United won the Champions League and Premier League.
Portuguese officials believed he was fit for Euro 2008 too but the problem has not gone away and now the operation is needed.
Ronaldo had been trying to engineer a move to Spanish giants Real during his time at Euro 2008.
But he looks to have since had a change of heart.
Publicly he says he does not know where he will be next season.