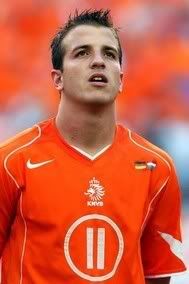 Spain newspaper El Marca is reporting that Real Madrid have come to an agreement with 25-year-old Hamburg midfielder Rafael van der Vaart.
The Dutch midfielder would join fellow countrymen Wesley Sneijder, Arjen Robben, and Ruud van Nistelrooy in the attacking half for the defending La Liga champions.
After being linked to Tottenham earlier this summer, van der Vaart had reportedly said he would rather stay with Hamburg than leave for a club at the same level. But he did hint that he would be open to a move to one of the major clubs in England, Spain, or Italy.
Over the last two summers Madrid has signed four dutch players—Robben, Sneijder, and Royston Drenthe joined the club last season—and will now sport five on their roster.
After watching this year's European Championship, it looks like Madrid hope to replicate some of the attacking prowess that the Oranje showed in Austria/ Switzerland.
When my friend sent me a post from the German newspaper Kicker announcing the trade this morning, the only word of the article I understood was "Madrid."
Both Kicker and El Marca are reporting that a deal is done with van der Vaart and a transfer is expected to be completed with over the next few days in the neighborhood of €20 million.
Where will van der vaart fit in with Madrid? The Spanish giants seem to have an abundance of attacking midfielders with Robben, Sneijder, Robinho, Baptista, and Guti.
If recent reports are correct, Robinho could be on his way to Chelsea which would explain Madrid's thinking when bringing in van der Vaart.
Another big issue this raises is Los Blancos' interest in Cristiano Ronaldo. Earlier this summer the transfer looked inevitable but with talks slowing down lately and this deal, it looks less and less likely that Ronaldo will join Madrid.
With this deal all but finished, here is a look at what Real's starting lineup could look like as they attempt to defend their La Liga title:
GK: Iker Casillas.
DEF: Fabio Cannavaro, Sergio Ramos, Gabriel Heinze, Pepe.
MID: Fernando Gago, Sneijder, Robber, van der Vaart.
ATT: van Nistelrooy and Raul.
This is an incredibly potent team that can score goals and will not give up many. They also leave Bernd Schuster a lot of options whether he wants to play a 4-4-2 or a 4-5-1, he has the players.
What do you think about this transfer and what it will do for Madrid this next season and what it means for Ronaldo's future with Man U.