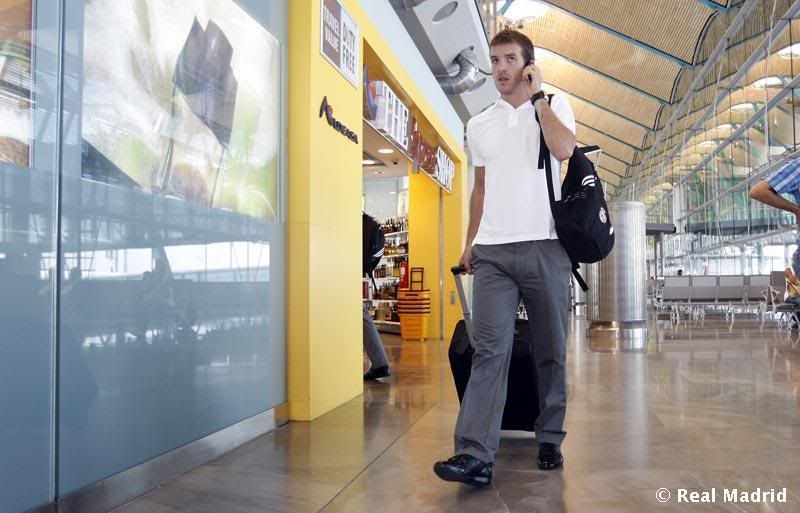 Real Madrid left from Madrid's Barajas Airport at 11:00 am. They will land in Bogotá at 17:30 local time. Their forthcoming friendly with Independiente has caused a sensation in the Colombian media.Schuster has taken Dudek, Codina, Salgado, Heinze, Torres, Pepe, Antón, Diarra, Guti, Baptista, Robinho, Robben, Javi García, Raúl, Van Nistelrooy, Saviola, Callejón and Van der Vaart with him. The latter is in perfect shape thanks to the work he did during Hamburg's pre-season and could make his debut with Real Madrid against Independiente.
Tight scheduleReal Madrid will stay in Bogotá's Victoria Regia Hotel. The squad will train at the Nemesio Camacho Stadium after a few hours' rest. Once the session is over, Schuster and Raúl will give a press conference. Thursday will see the squad dividing into two groups to attend the different acts devised by the company that's organised the event. The Madridistas will rest for two hours after lunch prior to the 17:30 game.
The Club's Board Members, led by President Ramón Calderón, will be greeted by their Independiente counterparts and representatives of the local authorities in an official luncheon.
Meeting with the President of ColombiaThe trip will also be used to strengthen the ties between the Club and Colombia. Ramón Calderón will be greeted by President Álvaro Uribe in an official reception. They will sign an agreement by which the Club's Foundation will compromise itself to open a new Social Integration Academy in Colombia.
After the match, Real Madrid will fly back to the Spanish capital, where they will land at 14:30 CET on Friday. They will go back to training on Sunday at 19:00 to start preparations for their Tuesday friendly against Frankfurt.