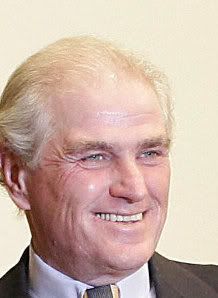 Ramon Calderon, the Real Madrid president, remains confident that Robinho will remain at the club and has ruled out making any more signings.
The Brazilian forward has been linked with a move to Chelsea, however, Calderon remains adamant the player will be staying with Madrid.
"He has looked very happy, he is going to play this season with us I am absolutely sure," he said. "He has looked lively, very happy and full of desire. And the coach (Bernd Schuster) has told me that he is training very well."
Calderon also admitted defeat in the club's bid to sign Cristiano Ronaldo.
"He is a player whose club did not want to sell him," Calderon said. "There are a lot of clubs who want our players and we don't want to sell them either. This is football, it was a matter between the player and his club.
"He said that he would like to play for us, but his club did not want to sell him."
Rafael van der Vaart is the only new face to have been brought in, although Ruben de la Red and Javi Garcia have returned from loan deals.
When asked whether they would be making any more signings, Calderon said: "No. The feeling is that is this is going to be a good year for Real Madrid. We said that the project was complete and I am sure that this season is going to be one of consolidation.
"We have a complete and very balanced squad."